Luxury Safari in Africa : botswana chobe And Botswana Safari 
What is meant by a luxury safari or exclusive travel vacation? The phrase suggests unbelievable luxury and pampering in the world's top resorts. While lodges and hotels like this do exist of course, luxury travel is available in all price ranges and for many different interests and purposes.
Luxury Wellness Vacations
The emphasis here is on lavish spa destinations which specialize in therapies and treatments to relax and rejuvenate body, mind and soul. In Africa, these destinations are usually in very quiet and secluded locations in the bush, sea or mountains and offer world class and top of the range therapy treatments. Luxury spa venues are usually good value for travelers to Africa from USA or Europe because of the favorable currency exchange rate.
Exclusive Luxury Bush Lodges in Botswana
The Chobe National Park in Botswana is one of the richest and most fascinating wildlife areas in Africa. It covers 11,000 square kilometers and is renowned for its large herds of elephant, zebra and buffalo.
Chobe National Park is believed to contain the highest concentration of elephant in Africa and regular sightings of predators such as lion, leopard and hyena. A cruise on the Chobe River is usually one of the highlights of a Botswana Safari Chobe Safari.A  safari to southern Africa "Botswana" is about exclusiviness, getting close to wild animals and observing them undisturbed which it make it so remarkable.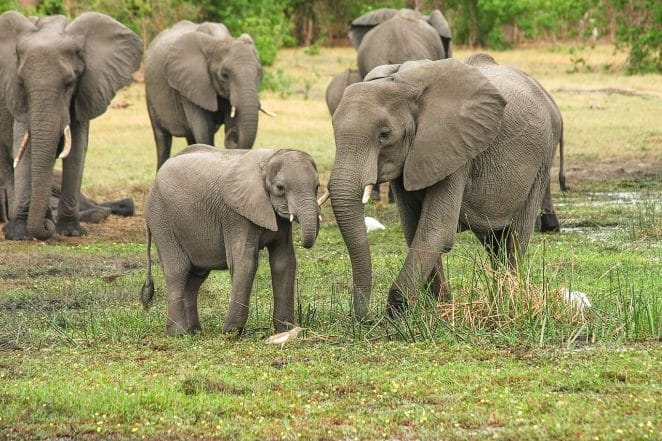 Exclusive Luxury Bush Lodges in Kruger Park Area
The Kruger National Park is the world's largest game reserve and one of the best safari destinations in the world. Wildlife within the Kruger National Park is unrivaled. Along the western border of the Kruger National Park, lie a number of Private Game Reserves such as Sabi Sands and Timbavati.When it comes to high quality game viewing these private reserves are in a class of their own. Game drives come with rangers or guides who are usually experts in the field of wildlife conservation. The lodges are some of the finest in Africa, offering world class cuisine and service second to none.
Exclusive, Luxury Wedding Venues in South Africa
Popular venues for weddings at deluxe lodges are found all over Southern Africa, but in South Africa itself the Cape Town has become one of the world's top wedding destinations. Cape Town is certainly one of the most beautiful and unpolluted cities in the world and has a vibrant, trendy atmosphere, long hot summers, excellent restaurants, beaches and shopping along with a multitude of tourist attractions.
The vineyards of the working wine estates in the historic areas such as Constantia offer award winning luxury wedding venues with outstanding service and hospitality.Luxury travel to Africa is not about how much money is spent. Whatever trip is planned special treatments do not always mean spending a fortune. The bigger suites, the first class seat and the exclusive restaurants will always bump up the price of a vacation. Doing a little research such as looking for out of season travel deals, special offers and discounts or last minute travel deals means it is possible to turn an African vacation into an African luxury vacation.
You can read also : Miracle of the Underway in Botswana – Animals Flood in for Africa's Greatest Wildlife Show