Kibuye and Napoleon Island :The Stunning Tourist Destination in Rwanda
Kibuye is an idyllic lake-side town on the shores of Kivu, one of the world's largest inland bodies of water, home to a wide variety of birds and plants. The myriad of floating volcanic islands gives this under-commercialised retreat a Pirates of the Caribbean-esque romanticism where sleepy fishing boats and clear starry nights combine.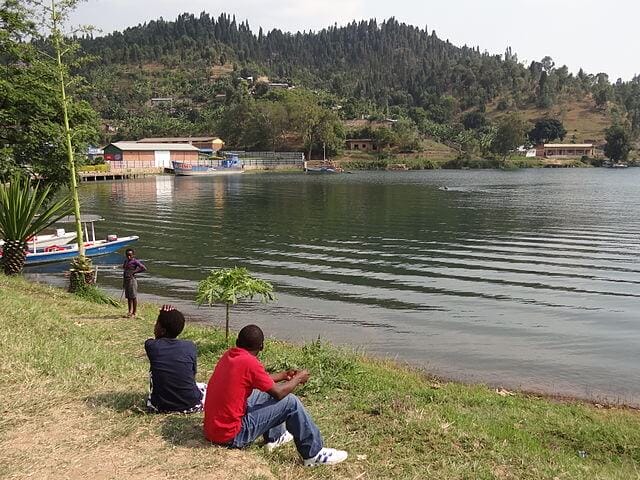 Getting to Kibuye from Kigali
Kibuye is around a three hour bus journey from Kigali along tightly winding bends, so if you suffer from travel sickness it is advisable to take medication. Unfortunately there is only route there. The two companies that regularly travel to Kibuye are Sotra and Atraco. Sotra now have large buses available every couple of hours which is preferable to the cramped mini buses and costs the same, around FRW 1,700 (£1.70/$3.40) one-way. Both companies are located in the centre of Kigali and the last bus leaves around 4:00pm.
If you need to wait for a bus on your return journey there is a friendly local bar with shaded tables very close to the Sotra bus station. With Kobil petrol station behind you, walk to the main road and turn left – you will see another blue petrol station (Services de Kibuye) and the bar is directly opposite with soft drinks from FRW 250 (£0.25/$0.50).
Hotel Béthanie: Accommodation & Food
There are a number of superb guest houses in Kibuye but the most famous is the Hotel Béthanie (Tel: +250 568 235). All motos will know where this is and from the bus stop it should cost you around FRW 3-400 (£0.40/$0.80) to get a ride up the hill to the door. Large double rooms with TV, hot showers and a lake-facing balcony cost FRW 15,000 (£15/$30) per night and cheaper twin rooms are available without TV but with hot showers for £10,000 (£10/$20).
It is quite a walk back into town and Kibuye is small with little night-life so the best place to eat is Béthanie's own restaurant where a main meal with beer will set you back in the region of FRW 6,000 (£6/$12) and you can relax and watch the sun setting over Lake Kivu.
Boat trip to Napoleon Island
Boat trips run regularly from outside the restaurant at Béthanie to tour the numerous volcanic islands, one of the most interesting being Napoleon Island, named because it is the shape of Napoleon's hat. The island is home to a large colony of bats which a short climb brings you face-to-face with. There are also giant African millipedes, eagles and a wide variety of water birds. Occasionally you may even spot an Inzocor: a water snake. The islands of Kibuye are rich in wildlife.
Boat trips around the islands cost in the region of FRW 30,000 (£30/$60) per outing, with an additional FRW 10,000 (£10/$20) for a tour of Napoleon Island or the hidden bar nestled between Napoleon Island and the mainland. For bookings call Ignatious: (+250) 0875 4488.
Swimming at Kibuye
Swimming at Kibuye is extremely safe. If you take the boat trip you can make a stop-off at a secluded bar on one of the islands. You can also take a stroll from Béthanie down to the very bottom of the hill, turning left at the T-junction and immediately left again. Through the back of this bar is a sheltered beer garden with easy access to the water, though we recommend you check the prices of food and drink beforehand as they do have a reputation for extorting unreasonable sums from tourists.
History of Kibuye and the Genocide of 1994
Kibuye suffered greatly during the genocide of 1994. It was considered a Tutsi stronghold, so much so that for years there was no proper road leading there. Walking distance from the town centre is a large hill-top church which is a memorial to over 11,000 people who were murdered. It is in stark contrast with today's relaxed, welcoming environment.
You may also read : Akagera Rwanda's National Park and the Stunning Landscape of Rolling Savannah Rich with African Wildlife