Morocco North Africa Package Tours Show Seniors Cities and Sand: Sahara Camel Rides
The North African country of Morocco, which has always attracted Europeans, is now getting more North Americans because of reasonably priced package tours from the U.S. and Canada. In April, 11 women, including many seniors, found themselves in a rollicking minivan for a Morocco tour arranged by Club ABC Tours of New Jersey. Price: under $3,000.
The tour began in Rabat after a nonstop flight to Casablanca and lasted 11 days. The highlight: these "women in the dunes" rode camels at dawn through Saharan sands that were a far cry from familiar ones in the Hamptons or the Jersey Shore. One woman, reveling in the bumpy ride, asks kiddingly as her picture was taken atop her camel: "Will this look good on JDate?" (She was referring to an online Jewish dating service.)
The group had been shopping and schlepping through the mosques of Rabat and Meknes, the souks of Fes and the Roman ruins of Volubilis before the minivan made a scenic crossing of the Middle Atlas mountains to the town of Erfoud. There, a colorful four-star hotel, the Kasbah Xaluca, welcomed its guests — in the middle of a blinding sandstorm.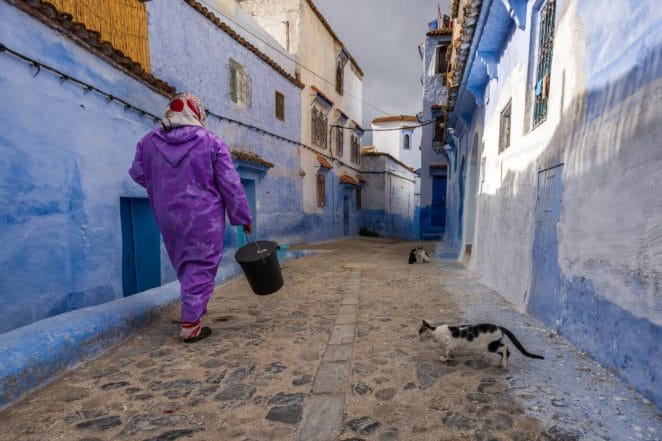 Charming Hotel in Erfoud
The hotel was a bit like an air-conditioned adobe fort on the outskirts of the Sahara, not too far from the Algerian border. Rooms were decorated in colorful local fabrics. Each included a sitting area, bathroom with ancient fossils embedded in the sink tiles, and a welcome plate of nuts. Dinner in the hotel restaurant was an extravagant Moroccan buffet including traditional "tagine" stews of meat and chicken. A troupe of musicians, including belly dancers, entertained.
Camels Await at Merzouga
When everyone was awakened at 4 A.M. the sandstorm was over and the sky was a blanket of stars. Land Rovers took the intrepid women over unmarked roads as the sky lightened. In less than an hour, we saw the silhouette of the Merzouga dunes, among the few in Morocco. Camels were sitting, parked, each with a blue-gowned minder who helped us climb into saddles. With an abrupt rocking motion, the beasts were on their feet and strode two toward the sandy drifts.
At the base of the dune, everyone dismounted and slogged through the hard sand to watch the sun peek over the horizon. The desert came to life in color and shadow. After a dash (or a slide on one's backside) down the dunes, the group remounted the camels for the procession back to the jeeps. This morning alone – an option that cost an extra $75 – made a budget trip to the tourist-friendly Muslim kingdom memorable.