Palm Desert: The Street Fair Shopping
Weekends at College of the Desert Tourists gather in Palm Desert and Palm Springs, California during the winter and spring months for sunshine, golf or tennis and relaxation. A popular outdoor weekend excursion that offers shopping and a chance to purchase locally crafted art, jewelry, clothing and accessories occurs at the College of the Desert, a fifteen minute drive from downtown Palm Springs. The desert oriented merchandise sold under covered booths consists of golf attire and T-shirts, sandals and fun accessories that reflect the casual Southern California lifestyle. Food booths provide enough refreshments to keep shoppers happy for hours browsing among the rows of colorful stalls.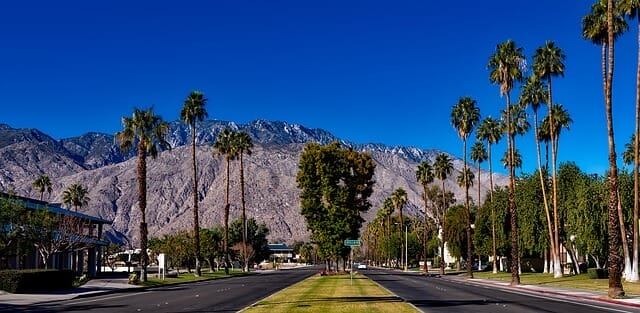 Palm Desert Street Fair Shopping Specialties At first glance visitors unfamiliar with the weekend event seem overwhelmed by the number of booths and abundant merchandise. The booths are randomly organized and many sells similar products so a quick walk around before purchasing is a good strategy. Prices are competitive although usually non-negotiable unless the items are large-scale. The merchandise changes each season depending on trends, particularly with clothing items, but some products such as golf accessories, hats and basic clothing are always available.
•Clothing:
Dozens of booths offer contemporary fashions for women including novelty printed shirts, sundresses and shorts. Some vendors sell handmade items including sweaters and scarves and dressy tops or jackets. Both men and women may find quality golf and tennis outfits at discounted prices. A few booths provide dressing rooms but most shoppers buy according to size. It is difficult to return items, most sales are final.
•Golf Accessories and Equipment:
Palm Desert holds top rated courses and the weekend street fair is an excellent place to purchase golf balls, both used and new. Markers, tees and small accessories make great gifts or souvenirs. A few vendors sell golf bags and clubs but the smaller items are the most widely available and value priced.
•Hats and visors:
The intense sunshine found most of the year in Palm Desert requires head protection and the street fair is an ideal place to purchase sun hats, visors and sunglasses. Customers are encouraged to try on the head-gear. •Jewelry and Art: The Palm Desert Street Fair provides an ideal opportunity to purchase an item made from local craftsmen and women. The artists typically man their own booths and answer questions about the materials, designs and workmanship.
•Food:
Two rows of food booths set between a series of picnic tables sell sandwiches, hot dogs, gyros, barbecue items and breakfast burritos. Popcorn, snacks, soft drinks and lemonade are also available. A few vendors sell fresh strawberries, local fruits and vegetables and gourmet food items from shaded booths mixed among the other rows of merchandise.
College of the Desert Street Fair Hours and Location:
The free open air market is held every Saturday and Sunday throughout the year between 7:00 am and 2:00 pm from October thru May and 7:00 am to noon during the summer until Sept. 7. The market is held at the College of the Desert facility at the corner of Monterey and Fred Waring Drive, a block off Hwy. 111. Parking is free but often somewhat limited requiring patience until a spot opens, particularly during the high season of February thru April. A covered tram continually takes shoppers from the parking areas to the market and returns to the parking areas.